An innovative product for making high-quality soup or bouillon without effort.

Allows anybody to make an orthodox, flavor-rich bouillon in just five minutes.
Additive-free, safe and consistent quality
A patent was already obtained in the United States (September, 2004) and is in the process of application in 30 major countries in the world.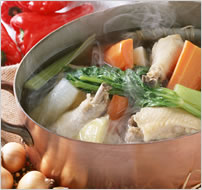 A new series of ramen soup for commercial use, which is one of our major product lines. The ramen oil that was added to the sauce enhances the taste and flavor even more. Offered in a large number of variations to respond to the needs of customers who go to great lengths when it comes to taste.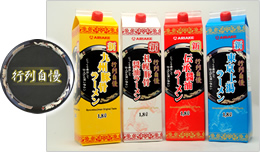 | | |
| --- | --- |
| Ingredients  | Uses only ingredients that were carefully selected while paying attention to the finest detail. |
| Quality | Comprehensively manufactured in one process from the cooking of the ingredients up to the packaging. Produced under thorough quality control. |
| Environment  | Eco-friendly cartons with caps facilitate storage after opening and disposal of the empty container. |
These products offer a simple and easy way to enjoy the flavorful taste of chicken bouillon, sauce demiglace, fonds de veau and sauce americaine. The aseptic (aseptic packaging) products of Ariake Japan only incur one-tenth or less the amount of damage from heating in comparison with conventional methods, as their high temperature sterilization is instantaneous before being packed in aseptic packages. For this reason, there is no deterioration in the flavor, even in comparison with frozen foods. Furthermore, since they can be stored at room temperature, they require no freezer space. Energy can be saved for storing and transporting, making them products that are friendly to the environment.