The Ariake Group uses its strengths founded on a uniquely built business model with a "Global Seven-Pillar System" to reap returns and pursue growth through our business activities.
Our foresight
The Ariake Group was an industry pioneer in creating a market for seasoning products made from all-natural livestock-based ingredients. Based on our rewards reaped as a trailblazer, we have developed three aspects that serve as our strengths.
Strength 1: Sophisticated production and technological capabilities
The cutting-edge computerized automated production system at our vast No. 2 Kyushu Plant produces and supplies products at high volumes. In addition, we use advanced production systems including cutting-edge analytical devices and authentic food preparation equipment to produce a wide range of delicious professional-grade products industrially.
Strength 2: Advanced capacity for quality control and hygiene management
We have been accredited for the international standard ISO9001 (quality management) as well as HACCP (Hazard Analysis and Critical Control Point), the hygiene management system administered by the Ministry of Health, Labour and Welfare in Japan. We implement hygiene management methods based on the HACCP format.
In October 2019, we were also accredited for FSSC22000 (Food Safety Management System), a sophisticated and highly stringent certification scheme that incorporates characteristics featured in HACCP and ISO22000.
Our manufacturing bases in Japan and overseas feature production equipment based on the hygiene criteria of the United States Department of Agriculture (USDA), which has the world's strictest standards.
Ariake Farm, an Ariake Group company, is also certified internationally by Global GAP, the internationally recognized standard for farm production.
Our production processes have received certification for the international standard ISO14001 regarding reducing our environmental footprint. In this manner, we engage in initiatives to carry out business activities while also working to protect the environment and create a recycling-oriented society.
Strength 3: Global production network
Our global production network consists of manufacturing bases strategically located in seven countries. The locations have been selected on the basis of the feasibility of procuring high-quality production materials and manufacturing products that meet the needs of customers in Japan and overseas.
Our Japanese manufacturing base is located in Nagasaki Prefecture, and we have six bases overseas in China, Taiwan, France, Belgium, the Netherlands and Indonesia. Our overseas manufacturing bases serve to provide materials to Japan as well as to produce and sell products to the local food service and food manufacturing industries.
The synergy of these three strengths enable us to manufacture and sell some 2,500 different all-natural seasonings for commercial use, and we have developed a strong customer base through these activities. We have developed a wide range of customers from many industries, including food services (restaurant franchises, hotels, pubs and clubs, schools, hospitals and medical facilities), processed foods (manufacturers of processed food products such as instant noodles, frozen foods, ham and sausages), and ready-made meals (convenience stores, supermarkets, bento lunchbox suppliers and catering operations, and catalog sales operators).
We engage in business with more and more local companies every year at our overseas locations.
As a result, we boast the largest share of this segment of the domestic market and we continue to achieve steady growth abroad as well.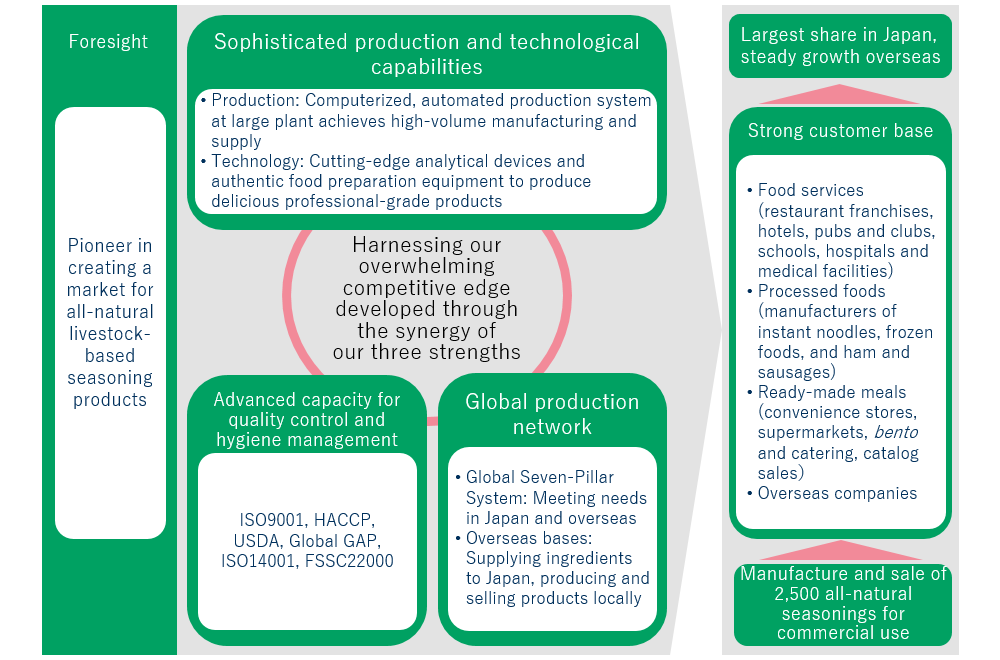 The characteristics of our unique business model