We will devote ourselves to providing our customers with high quality products that make the most of the highly characteristic healthfulness and safety of natural ingredients.
By building a QMS and improving it on an ongoing basis, we will aim for yet higher quality.
ISO9001 is an international standard relating to quality management systems. The term "Quality Management System" refers to a process under continuous improvement through which we provide our customers with products that reflect information relating to our customers' requirements, and ARIAKE JAPAN Co., Ltd. received its ISO9001 certification in June 2001. In order to address our customers' ever-changing needs, the quality management systems of ARIAKE JAPAN Co., Ltd. are certified as being in conformance with the requirements of the ISO9001 standard by regular and update audits by a registered certification body.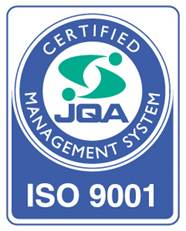 ISO9001 Management System Registration
| | |
| --- | --- |
| Certification | : ISO9001:2008/JIS Q 9001:2008 |
| | |
| --- | --- |
| Registration no. | : JQA-QM6662 |
| | |
| --- | --- |
| Registration date | : June 8, 2001 |
| | |
| --- | --- |
| Registered certification body | : Japan Quality Assurance Organization |
ARIAKE JAPAN Co., Ltd works closely with suppliers of animal carcasses (used to make extract) to ensure the quality of input materials for production processes. All deliveries are tracked by delivery date and lot number and our traceability system includes information about suppliers (processors).
Quality assurance
As part of the Ariake Group commitment to food safety, we have set up a comprehensive system of quality assurance procedures throughout the Group, which applies to all stages of the production process from initial product development through to ordering, manufacture and product delivery. The quality assurance system also includes complaints procedures.

Computerized automated production systems
The No. 2 Kyushu Plant, which produces the majority of Ariake products, features fully automated computerized production processes. Free of dust and workplace injuries, this cutting-edge computer-controlled facility is efficient, safe and hygienic. New plants in Taiwan and Indonesia likewise employ the very latest production equipment to ensure optimum quality and hygiene standards.

Customer relations
The No. 2 Kyushu Plant works together with food companies and a number of other customer corporations on a range of food safety initiatives, including regular facility inspections.
The No. 2 Kyushu Plant is accredited for the international standards ISO9001 (quality management) and ISO14001 (environmental management) as well as HACCP (Hazard Analysis and Critical Control Point), the hygiene management system administered by the Ministry of Health, Labour and Welfare in Japan. In October 2019, we were also accredited for FSSC22000 (Food Safety Management System), a sophisticated and highly stringent certification scheme that incorporates characteristics featured in HACCP and ISO22000.
Our manufacturing bases in Japan and overseas feature production equipment based on the hygiene criteria of the United States Department of Agriculture (USDA), which has the world's strictest standards.

Ariake Farm, an Ariake Group company, is also certified internationally by Global GAP, the internationally recognized standard for farm production.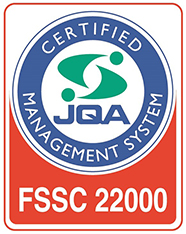 FSSC22000 Management System Registration
Food Safety System Certification (FSSC) 22000: Version 4.1
(This food safety management system certification scheme includes ISO22000:2005, specifications for Pre-Requisite Programs (PRPs), and the FSSC 22000 Additional Requirements (Version 4.1))
| | |
| --- | --- |
| Registration no. | : JQA-FC0186 |
| | |
| --- | --- |
| Registration date | : October 25, 2019 |
| | |
| --- | --- |
| Registered certification body | : Japan Quality Assurance Organization |